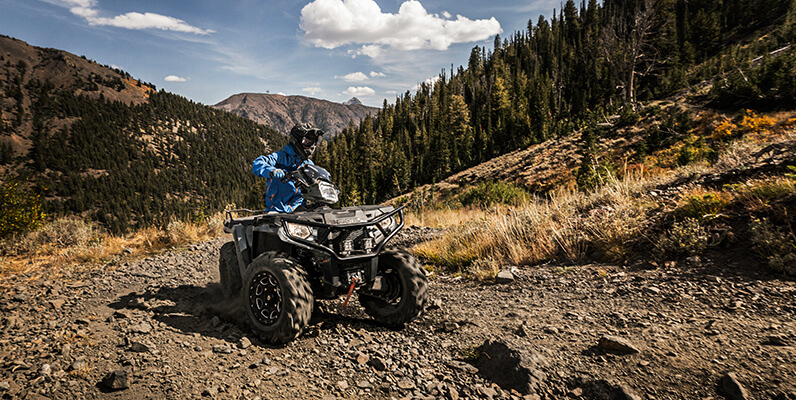 When it comes to buying an ATV or four-wheeler that fits your needs, there are several factors to consider. How much do four wheelers cost? What are the different types of ATVs? When is the best time to buy? It can all seem confusing, unless you know where to go.
High Lifter is a fan-favorite of ATV and UTV riders alike because we build our offerings and guides around what they need most. This ATV buying guide covers everything you want to know before you buy.
With the assistance of this guide, you'll be better equipped to choose the correct ATV as well as ATV accessories, wheels, and tires. To make things even easier, we've provided a general pricing range for ATVs and four-wheelers, including the benefit of manageable monthly payments.
What is an ATV or four-wheeler?
A four-wheeler is the perfect entry vehicle into the off-road world because it can provide the same trail thrills, excitement, and capabilities as a side-by-side with a lower price tag.
The four wheeler was made not long after the three wheeler—or ATC—disappeared. The first four wheeler was made in 1961, and with the addition of wheel #4, riders got more stability, increased traction, higher ride height, and a whole new way to take to the trails. Mud, deep water, and rocky hillsides are all maneuverable with the higher ride height and 4WD capabilities of a four-wheeler. They are also very adept at hauling and towing large loads over difficult terrain. In short, the ATV is an all-terrain vehicle that can work hard, play hard and open up a new world of off-road adventure.
Equally appealing are the varied ways an ATV can be used. They include:
Hunting and Fishing
Farming and Ranching
Lawn Care and Landscaping
Snow Removal
General Utility Tasks
Recreational Trail Riding
This incredible versatility is what makes the ATV one of the most popular off-road vehicles in the world. Throughout North America there are thousands of miles of trails where you can experience the off-road freedom only an ATV can deliver.
If you're looking at investing in a four wheeler or ATV, you're going to want to do some research before you buy. Luckily, we've compiled a complete ATV buying guide to help you pick the best ride for you.
We'll cover the difference between an ATV and a four wheeler, different types of ATVs, and the most popular ATV brands. We'll also give you an idea of how much an ATV costs, when the best time to buy is, and what accessories you'll want to get.
ATV vs four wheeler: what is the difference?
Though they are used fairly interchangeably, the motorsports community agrees: both have four wheels, but four wheelers always have AWD or 4WD, whereas ATVs could be RWD, AWD, or 4WD. For the purposes of this article, we'll stick with ATVs.
What types of ATVs are there?
There is a good bit of variety in ATV types. They all have inherent benefits based on how they were designed. Picking the best option for you comes down to knowing what you'll use it for, and what you need.
Recreational or utility ATVs
Utility or recreational ATVs are, as the name implies, designed for versatility and geared towards a work-first, play-later usage. Typically, they are larger, heavier, and offer a larger towing capacity.
Key features:
Racks and Storage
Integrated Hitches for Towing
Independent Rear Suspension for All-Day Comfort
High Ground Clearance
Electronic Power Steering (Optional)
Sport ATVs
These are performance-first machines built to help riders get better lap times and build gaps between them and the competition. These are the lightest of the ATVs offered, and usually the most unforgiving to new riders.
Key features:
Speed and Acceleration
Precise Handling
Premium Suspension Performance
Sport quads come in both four-wheel-drive models designed for trail performance and rear-wheel drive models geared towards racing on more trustworthy terrain like motocross tracks or wide open deserts. This class once only contained pure-race type ATVs with clutches and manual shift transmissions. As the ATV category grew, the demand for automatic transmissions and 4WD together drove newer models with both.
Hunting ATVs
Many consider these to be just utility ATVs, but the special attention OEMS put into larger, utility-first ATVs for hunting gives them their own category.
Key Features:
Rack extenders
Gun racks
Premium Camo paint
Youth ATVs
The final category in our buyer's guide is youth ATVs. Getting out on the trails with your children can be a great bonding experience. OEMs like Polaris and Can-Am make a variety of sizes and powertrains suitable for kids. With a youth ATV, younger riders can take to the trails safely.
Ranging from 70cc to a more powerful 196cc, there are models made to fit any age. Be sure to check with your local laws and regulations, and find the youth ATV that is designed with your child in mind.
When it's hard to choose, it's best to let your budget guide you.
How much is an ATV?
Pricing can be extremely difficult to navigate when searching for how much four wheelers cost, especially in the used market. The price should directly reflect the following:
Condition of the Vehicle
Model Year and Mileage/Hours
Features and Accessories
Location
In the end, the used market is always fluctuating. Especially with vehicles that usually see a good deal of upgrades and accessories added. Finding the right time to buy is determined by how hot the market is, or—if you're financing—how low-interest rates are at the time.
At High Lifter, we're more confident in the prices of new ATVs based on the manufacturer's suggested MSRP. Polaris, Can-Am, and Honda are not trying to hide the price, and you'll be able to see it on any of their sites.
When we zoom out to the market as a whole, new full-size ATVs generally range between $6,000 (USD) and $16,000 (USD). The majority of popular models hover around the $6K-$8K mark without upgrades.
Most affordable ATVs
The most affordable ATV is always going to be the one that gets handed down through the family. If you're in the market, used vehicles are a great option, and you can usually find good deals well under sticker price for Polaris, Kawasaki, Can-Am, and others. Checking online forums is a good first step for pricing a used ATV.
If you're looking for an affordable new model, we are fans of the 2024 Honda Foreman. This rig is in an affordable price range for the average four-wheeler buyer, and the most affordable in the 2024 marketplace. The Foreman is one of the best four-wheelers you can get in that price range and has the strength to compete with more powerful vehicles.
A liquid-cooled four-stroke engine and automatic transmission are included. Even in the base model, it comes with racks at either end, and has a respectable towing capacity. The swingarm rear suspension is perfect for all that towing and other hard work. This all-around ATV gets over 7.5" of ground clearance with some of the best-looking stock wheels we've seen.
Good deals are seasonal, though. It's key to know when to buy, and when to wait.
Best time to buy an ATV
The best time to buy an ATV is similar to the best time to buy summer clothes
Choosing the right accessories for your ATV
Once you've tried, and decided to buy, it won't be long before you realize there might be something missing. There's an extensive marketplace for aftermarket accessories for ATVs, and these are the most popular upgrades we see made at High Lifter.
ATV wheels and tires
Better tires mean better performance. Tires with bigger treads lend themselves to muddier conditions. D.O.T.-Approved tires are street-legal, and feature treads similar to a car. An all-terrain (A/T) tire can go from gravel to grit, mud to sand, and everything in between. They have larger treads than street tires but are less aggressive than tires for mudding or rock climbing. One thing is for sure—it's easier to ride when your tires are better.
Aftermarket wheels add a bit of style to your ATV, while keeping the tire bead properly gripped into place. These sets come in solid construction, two-piece designs, beadlock, or standard. If you're looking for wheels to fit a larger, lifted body, aim for aftermarket rather than factory wheels.
Why invest in a UTV wheel and tire package?
Thousands of High Lifter fans agree: pre-mounted ATV tires and wheels are the way to go. The sets available from Falcon Ridge and the like save you money and come pre-mounted for easy installation. Shop top brands and save at High Lifter today!
Lift kits
The classic High Lifter lift kit was all about fixing a big problem: the need for more clearance and bigger offroad tires.
Once High Lifter lift kits were launched, the offroad world was changed forever. Today, High Lifter lift kits are available for machine makes and models from Polaris, Arctic Cat, and other favorites, each backed with the quality our fans deserve.
If you want to up your clearance without sacrificing the look, feel, or performance of your ride, High Lifter parts and accessories are the only way to go. We're proud to feature standard, extreme, and portal lift kits in our selection. Find your lift kit here.
Snorkel kits
If you're looking to upgrade your ATV easily, a snorkel kit is a great way to go. By raising the exhaust and redirecting it, your ATV is more capable of trudging through deep puddles, honey holes, or ponds. The additional sealing that each kit from Snorkel Your ATV keeps your air intake and exhaust clean, and free of debris. Find the best snorkels and the perfect fit for your ATV by checking out Snorkel Your ATV and High Lifter. check out High Lifter's very own brand!
An ATV buyer's guide for real riders
As an offroad enthusiast, you know frills are usually just for fun—you want brass tacks, real stats, and the parts and accessories that will help you when it actually matters: out on the trail. At High Lifter, we're working every day to help riders like you build the ATVs of their dreams. If you're looking to upgrade your used or new ATV, High Lifter is the fan-favorite first stop. Shop High Lifter today.