Four wheels, full control, open air, and the world at your feet. Nothing beats the feeling of trail riding on a Polaris, Kawasaki, or Can-Am. Getting prepped for your first ride is important, and easy with the right guide.
Learning how to drive an ATV is easy when you focus on what matters most. Find out how to choose the right ATV for you, make sure you're ready to ride legally, equipped with the right gear, and ready for terrain on almost any trail.
Choosing the right ATV
An ATV, or All Terrain Vehicle, is an offroad vehicle with four wheels. Originally similar to trikes, the first ATV-style equipment had three wheels. This proved unstable for the types of riding that the end users wanted, and the market shifted to a four wheel design, also known as a quad, or four wheeler.
Even though ATVs and UTVs both have four wheels, they're classified differently. Usually, people say they are learning how to "ride" an ATV, but learn how to "drive" UTVs, similar to how you ride motorcycles but drive cars. ATVs are lighter, smaller, and more nimble vehicles for a lot of situations, but at the end of the day, it all comes down to preference.
There are three main types of four wheelers available for sale. These different categories of ATVs help riders know what to expect in each package and model.
Utility ATV
These models are the wider, more rugged, heavier, and larger engine models used primarily for hunting, trail riding, ranching, and farming. The additional weight helps them clear snow with plows, winch out stumps on property, or tack on a trailer hitch to pull bigger payloads across your property.
Sport ATV
If you've seen an ATV on the X-Games or in a motocross event, that's a racing ATV. These lightweight, finely tuned vehicles don't need the biggest engine, but they need the best shocks and suspensions around to go airborne and back without damaging the axle.
Youth
These are smaller, less powerful, but awesome options designed for younger riders. With top-notch safety features and versatility for hunting, racing, trail riding and casual cruising, there's a youth ATV model available for anyone learning to ride for the first time.
If you're ready to roll into your first ATV trip, and found the four wheeler that fits your needs, it's time to discover what's most important to prepare for your ride.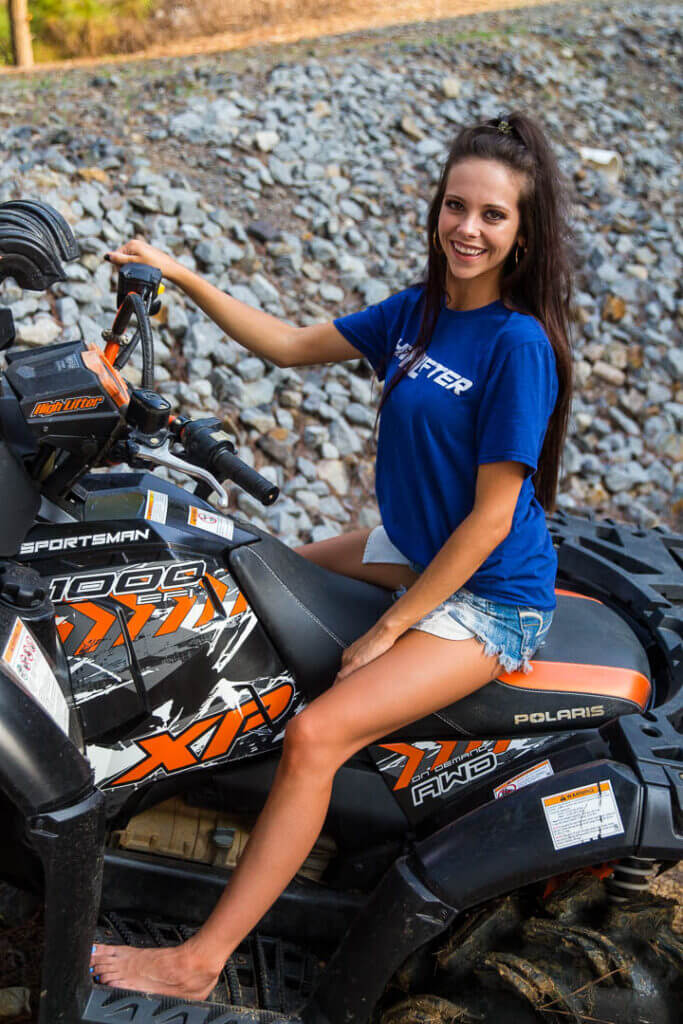 Preparing for your ride
If you want to ride an ATV, you gotta do it right. And a big part of doing it right starts before you ever climb on. .
ATV Registration, Permits and Insurance
Laws and regulations for ATVs vary state by state. In some states like Texas, there's no need to register your ATV, and other states where there is no permit necessary. It's most important to check with your local legislation before you take an ATV out for the first time.
Take a safety course
The most important part of riding an ATV for the first time is confidence. The best way to get that confidence is by taking the time to learn. A course may take an afternoon, but it's worth a lifetime of safe rides and happy trails. Finding a course isn't hard: once you've got everything you need to ride, google "ATV safety course near me"!
What gear do you need?
Like we said: prepare in advance for the best ride, and that includes the right gear.
A beginning rider should prepare with at least the following:
A helmet: Seriously. You're a beginner. Don't worry about looking cool: all the cool kids wear helmets these days.
Goggles: Trust us on this one. You're gonna have a bad time if your eyes aren't protected. Dust, sand, snow, rain. The list goes on. There's a lot of stuff that can get in your eyes, and we don't want your first ride getting ruined by something unavoidable. Plus they're not too pricey and we have a ton of cool goggle options available for you.
A fire extinguisher: Think about it this way. Would you rather bring a fire extinguisher and not need it, or need one and not have one? That's what we thought.
A safety harness: You wear your seatbelt, right? Well, this is like that, but cooler. You're a beginner. You're going to want a safety harness.
Boots, waders, jacket, etc: Depending on the weather and the terrain, you could need a lot more gear. Please, don't do your first ride in flip-flops and a Hawaiian shirt. We have plenty of options from Gator Waders for you.
Okay, you geared up? Time for the pre-ride checklist.
Pre-ride checklist
The easiest way to get ready to ride is by going through thorough parts and equipment checks. Every vehicle is different and has different features, so this list is not complete, but works as a good general guide.
Inspect oil level before turning over the engine
Make sure vehicle is properly fueled
Check battery for calcium buildup
Use tire gauge to check tire pressure
If there is a horn, check that it works
Check lights, turn signals, etc.
Make sure riding mode is set to your needs
With all your fluids in check, lights ready to go, tires and spares in good condition, you're ready to ride for the first time. That is, as long as you're not riding illegally. THE MOST IMPORTANT PRE-RIDE CHECK IS WITH YOUR LOCAL OR STATE LAWS. The rules above are always going to help you stay safe on your ATV, but your local government website will make sure you're covered from a legal standpoint when you decide to go out on your first ride.
Driving your ATV
After a thorough pre-check, you're ready for your first ride and learning how to ride an ATV. For beginners, some of the first things you'll need to know are straightforward enough, but that doesn't mean they're not important:
Light on the throttle: The last thing you want is to tip the vehicle because you got too excited. You can avoid "Whiskey Throttle" by keeping your hands loose and light on the controls.
Head on a swivel: Anything can happen out there. It gets dicey. Animals, other vehicles, or even a falling tree. Keep your wits about you and watch for any and all obstacles.
Know your limits: If there's a hill that looks too steep or a log that's too large to get over, don't push your luck. Knowing that you're not ready means you can take a more mild route around obstacles and stay on the trails without the embarrassment of having to winch out your ride.
How to start a four wheeler
Every vehicle is going to have a slightly different process, so we recommend that new riders consult their owner's manual. But, here's what a fairly standard process for starting an ATV looks like:
Make sure the ATV is pointed in a safe direction.
Ensure that the transmission is in park or neutral.
Engage the parking brake.
Open, or turn on, the fuel valve.
Flip the engine run switch to on.
Move the choke switch to the on position if the engine is cold.
Start the engine.
Some vehicles offer more automation in the start process, but this is a good general guide for what to expect across the board. Now that the vehicle is on, learning how to maneuver it is the next, most natural step.
Riding uphill
When you're hitting the throttle on a sloped surface, your transmission and tires are going to respond differently. You don't want your vehicle to lose traction or over-accelerate, so remember to play it safe while you're a beginner and avoid dicey situations until you're more comfortable.
Uphill ATV riding fundamentals:
Be smart: If you don't think you can make it up the hill, you're better off opting out.
Make sure you're in a low gear.
Try to lean towards or over the handlebars to center your weight in front of the axle.
If the trail you take winds and wanes with a steep incline, it's important to keep your head on a swivel. With your center of gravity farther forward, your eyes on what's next, and a gentle control of the throttle in a lower gear, you're better prepared for the climb.
Downhill ATV riding
The first mistake a lot of new ATV riders make is not treating downhill trails seriously. Luckily, the most basic downhill ATV trail tips are second-nature for almost every rider. Shifting your weight back, avoiding extra throttle, and the proper gear setting is key. If you keep these fundamentals for UTV riding below in mind, you're on the right track:
Downhill ATV riding fundamentals:
Shift your weight to the rear by leaning back.
Maintain a low speed.
Use a lower gear.
Brake gradually.
Look ahead.
Uphill or downhill, once you're comfortable with the fundamentals, it becomes a more instinctive "feel" response between you and your ATV. Once you start to feel comfortable traversing steeper inclines and longer drops you can look for more challenging trails. As a new rider, it's important to understand your vehicle before trekking through this type of territory.
Traversing uneven terrain
ATVs were designed to handle tough tracks and terrain—hence the name all terrain vehicles—but you need to be as ready for uneven riding as your vehicle. There are a couple aspects to driving on uneven terrain that can keep you safe when you're out "sending it" somewhere new.
One of the biggest risks as a new rider is tipping your ATV on the trail, so it's important to know how to avoid it. A wider stance ATV might seem more sturdy—but when the angle of your ATV gets steep, you should lean towards the highest point. This can help you avoid tipping or over-throttling when the trail levels off.
When there's thick mud ahead of you, it can seem daunting. But, if you know what to do, riding through thick mud is no chore at all–it's fun! The key is to go slow, but maintain movement. Trying to haul it too fast through mud can lead to the front end getting stuck, so slower is better. The most important thing is to make sure your wheels keep moving. Find the best tires for mudding here.
Avoiding obstacles
Unless you're just riding up and down the driveway as you plow snow, you're bound to face some obstacles. The best way to avoid the kinds of obstacles that can damage your wheels, tires, undercarriage, and suspension is by being able to see them coming. Find goggles to keep your view clear here.
If you're face-to-face with a big obstacle with no way around, you might have to come back the way you came. If you want to be prepared for next time, an aftermarket lift kit can give you the clearance you need to get past almost any obstacle.
But remember, you're a beginner. Once you've graduated from needing the advice in this article, we recommend you check out the best ATV lift kits from High Lifter.
Concluding your ride
At the end of your ride, look over your vehicle to make sure it's safe, and in good condition for the next time you take to the trails. Turn off your vehicle according to your manual's directions and check for tire wear, damage, or any visible issues.
Enjoy your ride—and stay safe!
Now, you're ready to take to the trails, tear it up, and take in some well-deserved you-time. With the right equipment, perfect upgrades, and the knowledge you need, it's time to join the thousands of High Lifter fans already out there! Find some fun out there, and when it's time to take your ATV to the next level, trust High Lifter for everything you need.